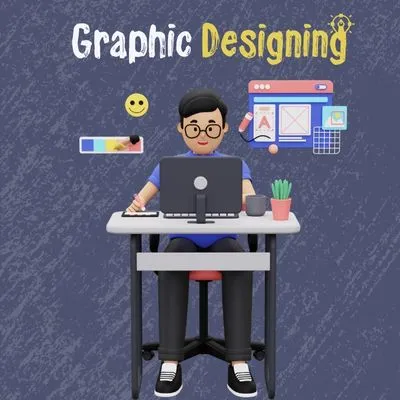 Career as a graphic Designer
Categories

Blog

Date

February 22, 2022
What do graphic designer do
Graphic Designer create artwork for Magazines, Television Graphics, Logos, and Websites in Print and Electronic Media. Graphic Designer use hand or computer software to develop visual concepts that communicate ideas that inform and inspire people. Graphic Designing is considered to be one of the most popular choices of students who wish to pursue a course in design in India. … There are several job opportunities after Graphic Designing in India and candidates with a degree in Graphic Designing have excellent career prospects. For commercials, brochures, publications, and corporate reports, Graphic Designer create the overall layout and production design.
Popular Graphic Design Career Opportunities
Graphic Designer Create images and layouts for product Illustrations, Company logos, and Websites, among other things This job title can be used to describe a wide range of responsibilities in a wide range of sectors. To choose Graphic Designing as a career, one must have a creative flair, up-to-date knowledge of industry software and computer technologies.
Creative director
Determine a project's creative vision They guide their team through the steps of creating something, whether it's a concrete product like a video game, film, or magazine, or something more abstract like an advertising campaign or brand identity, to ensure the overall aesthetic and coherent appearance continues on track.
User experience (UX) designer
work to make products, processes and services seamless, enjoyable and intuitive for users. They think about how the product feels, how users will use it. They ensure the product flows from one step to the next. UX designers might run user tests, refining any bumps or confusions in the process. This career involves tons of out-of-the-box thinking, creative intuition and a natural appreciation for smooth design. This design discipline is often found in web design, where organisations are placing an increased emphasis on ensuring their website designs are both visually appealing and simple to use. While user experience design has been around for much longer, Ruane notes that the role of UX designer really started to grow in popularity around ten years ago. When that happened, many of his fellow graphic design classmates transitioned into UX careers. This is an excellent role for technology-savvy designers as it often requires a blend of design and web technology skills
User interface (UI) designer
UI design is frequently regarded as a subset of UX design, with similar overarching objectives. Designers of user interfaces concentrate on the layout of the product. They create each screen and page, ensuring that the visual layout complements the overall path that a UX designer has mapped out. Each screen or page a user encounters with is designed by UI designers, who ensure that the UI graphically communicates the route a UX designer maps. They might select where content should belong on an analytics dashboard or which tools are most useful for a page's user. They also pay special attention to stylistic coherence and consistency in the finished result.
Production artist
Whether it's in graphics, cinema, art, or another medium, production artists are in charge of the hands-on components of a project. During the last stages of development, they upload design files and ensure their accuracy. This profession necessitates both design and computer application skills in equal measure. When production artists finish a piece, they may recommend finishing touches such as scaling, cropping, retouching, and repositioning. Learning Photoshop Course in Surat Vesu will assist you with photo retouching, cropping, and scaling. "If you start as a junior designer at an agency or as a production artist, you'll get to work with a dozen professionals in strategy, technology, development, animation, data, UX, analytics, and more
Product developer
Product developers are in charge of conceptualizing, leading, and overseeing product development. They can work on a variety of projects, but frequent roles include market research, graphic design, product presentation to employers or stakeholders, and participation in the development process. Package Design Course in Surat Piplod will assist you in creating an eye-catching design.
Art director
In publications, newspapers, product packaging, and film and television projects, art directors are in charge of the visual style and content. They create the design and direct the development of each contributing item by other artists. They collaborate closely with their employers or clients to create an aesthetic vision that meets the goals, the budget, and the desired impact.
Marketing specialist
Marketing professionals gather and analyst data on target customers, launch marketing campaigns, assess the efficacy of marketing efforts, and develop marketing strategies to promote their company's goods and services. Many of these graphic design jobs, as you've already observed, fall under the bigger tent of marketing. With the distinct expertise graphic designers provide, Cunningham believes that more graphic designers should choose job titles in the marketing sector. Graphic Design Jobs are highly Creative.
Multimedia artist or animator
Multimedia artists and animators use computer animation or modelling applications to create intricate images and animation. To generate media content that meets their employer's objectives, they consider story development, visual impact, and platforms. More companies and brands are striving to expand their online video presence, which has benefited graphic designers with animation and motion graphics expertise.
Freelancer
While it's not a unique design job in its own right, most of the job titles mentioned above can be performed as a freelancer. Designers who have some experience on their resume, a stunning portfolio of work or expertise in niche areas of design, marketing and graphics could build a career finding freelance projects. Learn Illustrator Course from best graphic design course classes near me