Java Programming Course
learn Java course from Future vision computers Institute. It offers the best industry oriented professional level Java training with live projects. Java Programming institute in Surat City light
What is Java Programming?
Learn to code Java Programming . Java is a class-based, object-oriented programming language that is designed to have as few implementation dependencies as possible. It is a general-purpose programming language intended to let application developers write once, run anywhere (WORA)  meaning that compiled Java code can run on all platforms that support Java without the need for recompilation. Best way to learn Java Programming and understand its concepts, is to join  Java Programming Course Classes in Surat.  Java applications are typically compiled to bytecode that can run on any Java virtual machine (JVM) regardless of the underlying computer architecture. The syntax of Java is similar to C Programming and C++, but has fewer low-level facilities than either of them. The Java runtime provides dynamic capabilities (such as reflection and runtime code modification) that are typically not available in traditional compiled languages.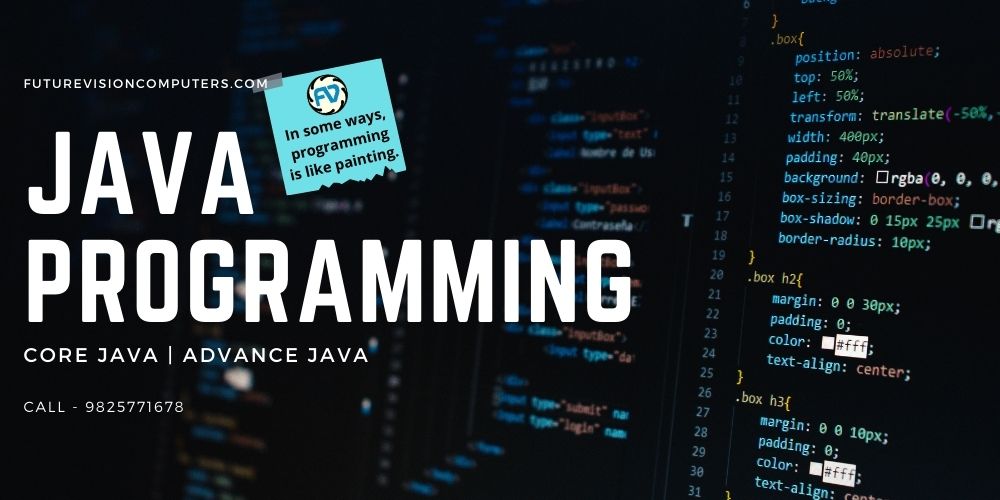 What you will Learn from  Java Programming Course Classes ?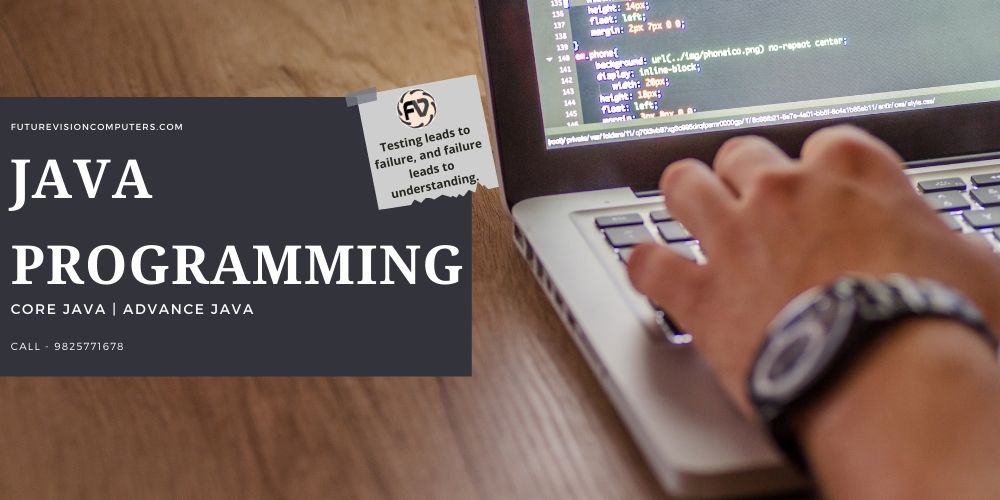 You can also Learn
Diploma in Programming Course ( C Programming , C++ , Python , SQL , Java ) online and Offline with us, We also Provide Online / Offline  Learning of School Level Courses for Kids , Core PHP , Servlets, and many more courses , Advance Excel.  Click here for our Workshop for Python Programming
Frequently asked Questions about Java Programming
Q – Can I learn Java course online?
 A – Yes you can surely learn Java course Online from Future vision computers Institute. It offers the best industry oriented professional level Java training with live projects.
Q – Is Java developer a good career?
 A – Being released over the past 20 years ago, Java has been at the top due to its popularity among programming languages, for the last decade. Job prospects for people with Java skills are in         demand across many different sectors.
Q – Why is the interface used in Java?
 A – To achieve full abstraction.
To support multiple inheritance
Q – What certification will I receive after course completion?
A – You will receive a "Future Vision Computers " recognized course completion certificate.
Best Exercise for Java Programming
Java Program to Find all Roots of a Quadratic Equation